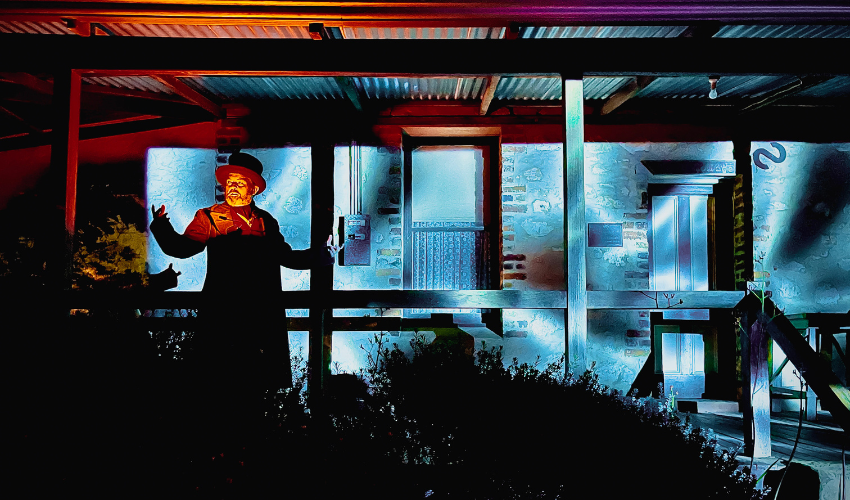 Experience Mandurah's beautiful Eastern Foreshore from a new perspective, in this spooky heritage walking tour.
About the Event
As the dusk fades, follow an illuminated ghost ship on a voyage through history, as it reveals the stories of Mandurah's past residents. Shimmering figures emerge from the ship's lantern, painting pictures on the walls with light, before dissolving into the night.
Dark Corners illuminates the past, using new technologies of projection-mapping and augmented reality to enhance the oldest of art forms; the ghost story. Featuring local stories, collected from local archives and the Mandurah community, Dark Corners is a beautiful and immersive experience uncovering the historic tales that haunt us still.
Dark Corners includes themes of horror and the supernatural, and is suitable for a mature audience. Viewer discretion is advised. Children under 15 years must be accompanied by a parent or adult guardian.
Performance times:
Friday, 14 October, starting 7pm & 8pm
Saturday, 15 October starting 7pm & 8pm
Meeting/finishing location:
Kwillena Gabi Estuary Pool, Eastern Foreshore Reserve
Free event - bookings are essential.
Accessibility
Dark Corners is a walking tour, taking place along the Eastern Foreshore Reserve. All areas included within the tour are wheelchair accessible. Seating is limited to existing infrastructure available at each location along the tour, and participation in the event will include standing and walking for an extended time period.
If you have any questions regarding tour accessibility, please contact the Arts & Culture department at artsculture@mandurah.wa.gov.au or (08) 9550 3883.
Dark Corners is written and directed by Ross Vegas and performed by Jeannette Friesen, in collaboration with the Mandurah Community Museum and Mandurah Performing Arts Centre.
Dark Corners is presented as part of Mandurah Arts Festival 2022. Immerse yourself in all things arts and culture – 14 – 16 October 2022.