Wednesday, 9 September 2020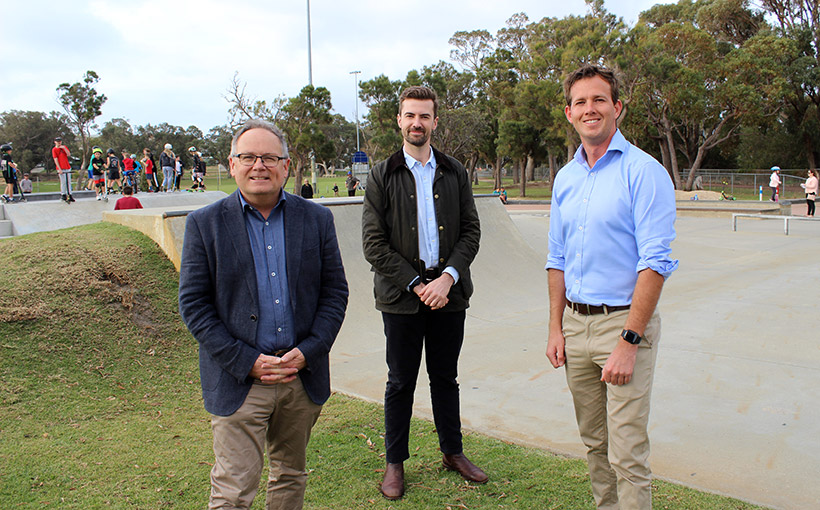 Skaters in Mandurah's south are enjoying a new and improved experience with the opening of the upgraded Falcon Skate Park at Falcon Reserve.
The brand new facility was officially opened on September 3 by Mayor Rhys Williams, Mandurah MLA David Templeman and Lotterywest. Skaters from the southern areas and beyond have been flocking to use the new space.
Mayor Williams said the new skate park was designed with input from local skaters and design company Skate Sculpture.
"Our local skating enthusiasts were key to making this new park what it is today, and we thank everyone who came on board to help with the designs," he said.
"The Falcon Skate Park is suited to all skill levels, from experienced skaters to newcomers who are riding for their first times, and it's also perfect for scooter riders. We can't wait to hold skate clinics and workshops here really soon.
"We're very thankful to the State Government through Lotterywest in its support for this significant community project, which is a fantastic addition to community facilities in the southern corridor."
Ontop of the City of Mandurah's $200,000 contribution, Lotterywest committed $200,000 to the project, which supports its vision to build a better Western Australia together.
Mandurah MLA David Templeman said: "Congratulations to the City of Mandurah on the completion of this great community project."
"I am pleased that this project was supported with a $200,000 grant through Lotterywest, providing jobs through construction and creating a fantastic facility for locals," he said.
The skate park upgrades are part of the City's overall $1.2m Falcon Reserve Activation Plan, which will transform Falcon Reserve into an exciting recreation precinct to be enjoyed by all.