Tuesday, 8 September 2020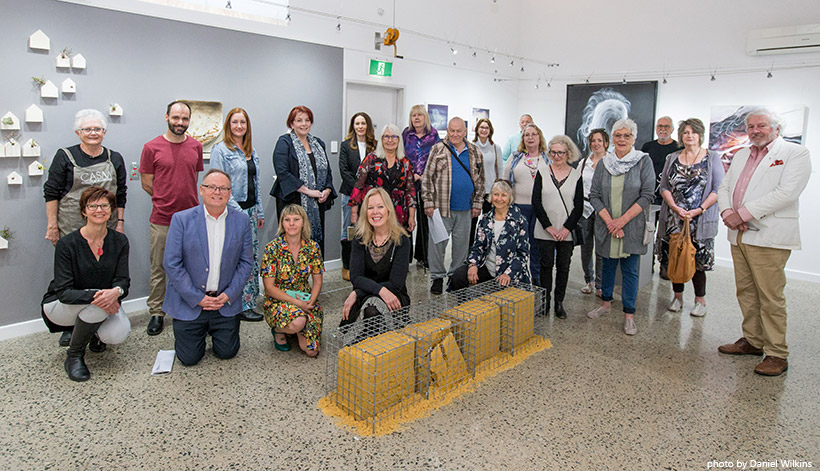 A new exhibition exploring feelings and experiences of the COVID-19 pandemic is now on show at Contemporary Art Spaces Mandurah (CASM) and the Mandurah Community Museum.
CASM's reopening exhibition, Reflections - COVID-19, has allowed local artists to explore their feelings and share stories and experiences of the global pandemic.
The exhibition was officially opened by Mayor Rhys Williams and Mandurah MLA David Templeman at the CASM gallery on August 30.
Reflections features 50 new artworks by close to 90 local artists, all drawing on personal or observational experiences during isolation.
With works featured across the two venues, artists' stories told through a range of mediums including paintings, print, sculpture, jewellery, ceramics, textile, installation and multi-media.
The Museum is also exhibiting a history of COVID-19, and a series of nine oral interviews conducted during the restrictions period.
Mayor Williams said due to COVID, a number of exhibitions and events were postponed during CASM's six-month closure, but it was exciting to have reopened the arts hub with the new display of works.
"Many facets of our community life were majorly disrupted and put on hold during the pandemic, and our arts community were no exception," he said.
"Australia's creative sector has been one of the hardest hit industries throughout this time, with galleries and theatres closing across the nation. As a City, we're always looking for ways we can connect with and support our local creative sector, as this will help to improve the health and wellbeing of our community during the recovery phase. During CASM's closure, our arts and culture staff worked alongside local artists and volunteers to build opportunities for involvement and support their health and wellbeing. It's great to see our amazing artistic community getting out there again and sharing their works with us all."
Reflections
also includes the Art on the Fence – COVID-19 outdoor exhibition, with 80 artworks by community groups, young artists, school children and families adorning the fence outside the CASM gallery for all to see. Mandurah residents were encouraged to create artworks on recycled corflute signage, portraying how they spent their time during the isolation period.