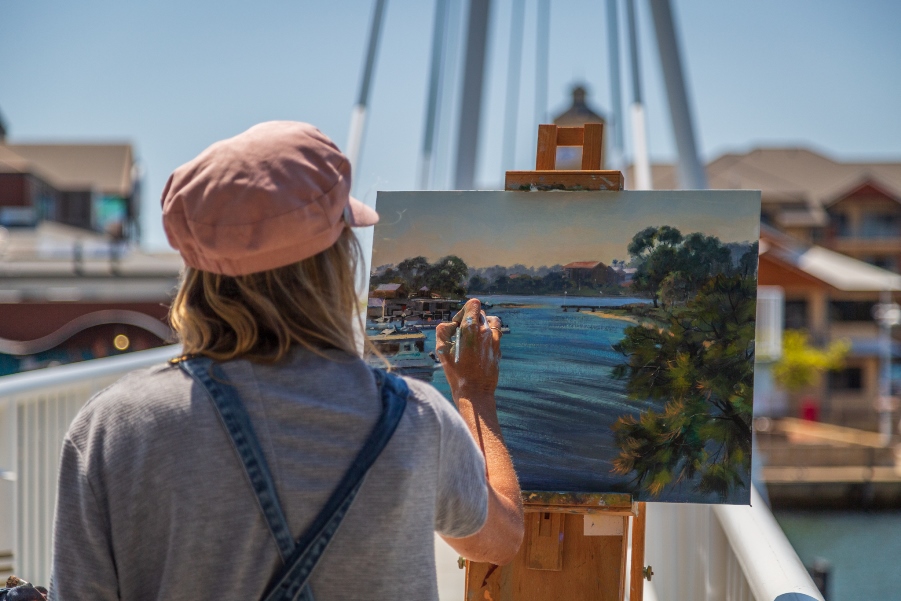 About the Event
Plein Air Down Under invites artists to join in the fun of Mandurah's first outdoor painting festival.
Over $8,000 in cash and prizes is on offer for artists accepting the challenge of capturing the character and beauty of Mandurah and Pinjarra's natural and built environment.
As well as organised Paint Outs, there will be time for artists to explore and paint in other areas.
The festival dates are 26, 27 and 28 September, with additional pre-festival workshops and activities – all designed to celebrate the art of painting outdoors.
What is Plein Air?
En plein air is a French expression meaning "in the open air" and refers to the act of painting outdoors. The artist's subject is in full view, with no photographic reference. It allows the artist to paint a moment in time, in real time. Plein air artists capture the spirit and essence of a landscape or subject by incorporating natural light, colour and movement.
Image: Artist Leanne Pearson, photo by Brian Osborne
Price: Free for spectators. Artists participation $10 - $60 depending the event.
Type of event: Arts and Culture and Community Events
Location: Saturday - Eastern Foreshore and Mandjar Square. Sunday – Pinjarra. Monday - Doddies Beach, Halls Head and Mary Street Lagoon
Website: https://pleinairdownunder.com/
Facebook: https://www.facebook.com/pleinairdownunder/
Phone: 0414 441 761
Email: pleinairdownunder@gmail.com
Postal Address: P.O Box 5105 Falcon Western Australia Australia, 6210