The Avertas Energy Waste to Energy plant will be the first of its kind in Australia, integrating the recovery and reuse of waste with the generation of energy to provide a practical solution to two community challenges: waste disposal and renewable energy supply.
The facility will use tried and tested moving grate combustion technology already operational in more than 2,000 similar waste to energy plants around the world. The facility has the capacity to process 400,000 tonnes per year of general waste, resulting in a significant reduction in CO2 emissions and delivering 36MW of baseload electricity to the grid. Waste to energy technology is a viable, clean and sustainable alternative to landfill disposal, which compliments the 3Rs (reduce, reuse and recycle) and is integral to any modern integrated waste management system.
Waste is thermally treated with resultant energy recovered to create heat. The heat energy is converted to steam energy which powers a turbine and generates electricity.
These outcomes are equivalent of taking 85,000 cars off Perth's roads and powering 50,000 households every year.
The waste to energy process is detailed in the following infographic: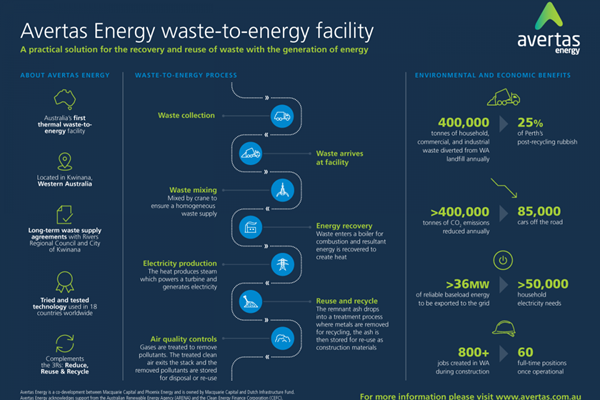 The advantages of Waste to Energy include:
Landfill avoidance: The City's goal is to divert almost all of the residential waste stream (excluding the yellow lidded recycling bin and other materials that can be recycled) to the WtE plant
Energy recovery: In the form of clean renewable electricity generation. Unlike solar and wind generation, WtE plants are a unique source of continuous renewable energy
Recycling: through the recovery of metals from the ash-product such as the capture of metals which are not recovered by the kerbside recycling collection service
Reprocessing and reuse: through the proposed conversion of the solid ash by-product of combustion into bricks and pavers and/or used as construction aggregate
An artist impression of the Avertas Energy Waste to Energy plant in Kwinana: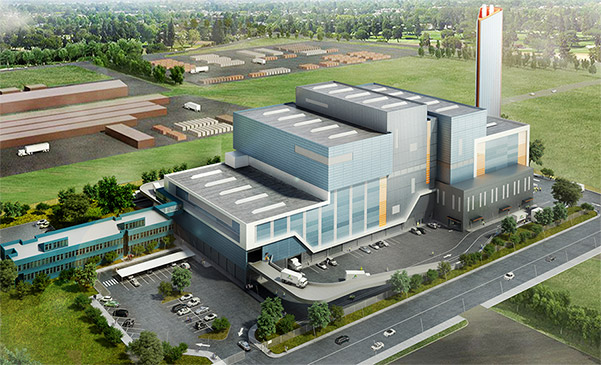 The Waste Management and Resource Recovery Association have developed an informative fact sheet on energy from waste. This document answers many commonly asked questions, and is a useful resource for anyone looking to learn more about energy from waste.
Avertas Energy have also developed frequently asked questions about their WtE plant, and information about preserving our air quality.