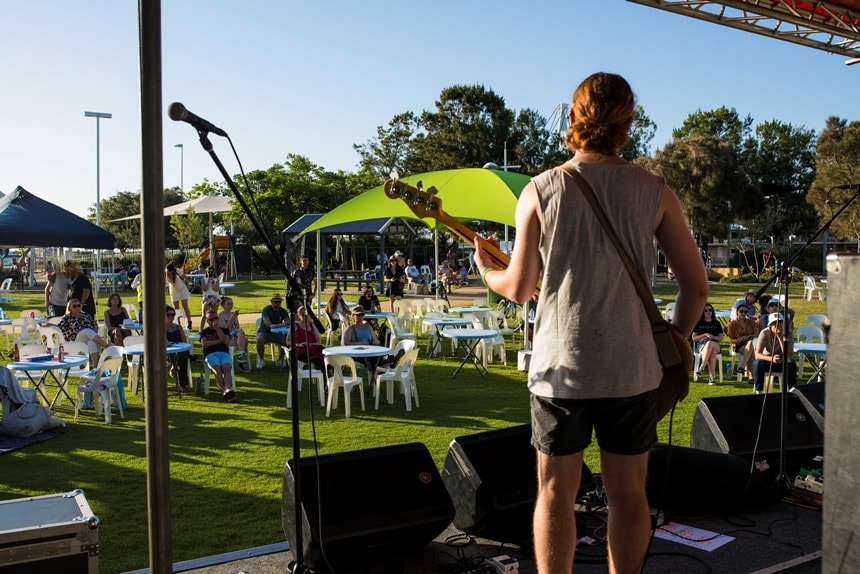 Enjoy a variety of musical performances by the water.
About the Event
Musical Reflections in the Marina will feature a mix of genres softly carried throughout Mandurah's waterways.
The FREE afternoon blend of jazz and string instruments will feature pop rock and edgy beats. The evening will then transform into a spectacular orchestral performance for the community to enjoy. This event will connect our community through the universal language of music.
The musicians will share their reflections on the Australia Day message, Respect. Reflect. Celebrate - We're all part of the story.
3:15pm - Swingin' at the Savoy:
Step into the smokey bars of the 1930's to hear the real stories and the amazing music of the swing era's legendary performers. Featuring live band Swingin' at the Savoy and some ridiculously energetic swing dancers, this high paced show will have people cheering for more.
4:25pm - Aquila:
Classically trained, finely tuned string quartet that features some of Perth's most up and coming players. Live performances smash the two worlds of classical and contemporary music together in a way neither would expect, making for renditions and re-imaginings that bring out the rock in classical and the baroque in pop.
5:35pm - INNEKA, Perth Symphony Orchestra:
Inneka combine the classics with edgy Ministry of Sound beats which everyone recognises, which will have people reminiscing along on their ride, the site list designed to lure in the audience quickly and finish off with an enduring Ministry of Sound Classic which will have everyone moving.
6:30pm - Australian Baroque Orchestra:
Australian Baroque is a new national ensemble and early music initiative, formed at its core by WA-based artists. These world-class players with a spirit of investigation and historical inspiration, bringing a stunning program and exciting, immersive, projects as they play the Vivaldi Season's concert with a full baroque orchestra.
Accessibility on the day:
Accessible toilets available;
Extensive parking options at the Lido, Reading Cinemas and Mandurah Performing Arts Centre car parks with ACROD availability;
On site Chill Out Zone supported by APM and Wanslea:

Take a moment out of the event to relax with bean bags and noise cancelling headphones;
Beach wheelchair and walker access available, bring your bathers and trial this activity on the day.
Any noise complaints during the event can be directed to 9550 3840. This number will be monitored for noise complaints only.
Reflect. Respect. Celebrate - We're all part of the story.
Part of Mandurah's Longest Australia Day Weekend series of events.
A free event proudly support by the Australian Government through the National Australia Day Council.
Another great City of Mandurah alcohol and smoke free event.