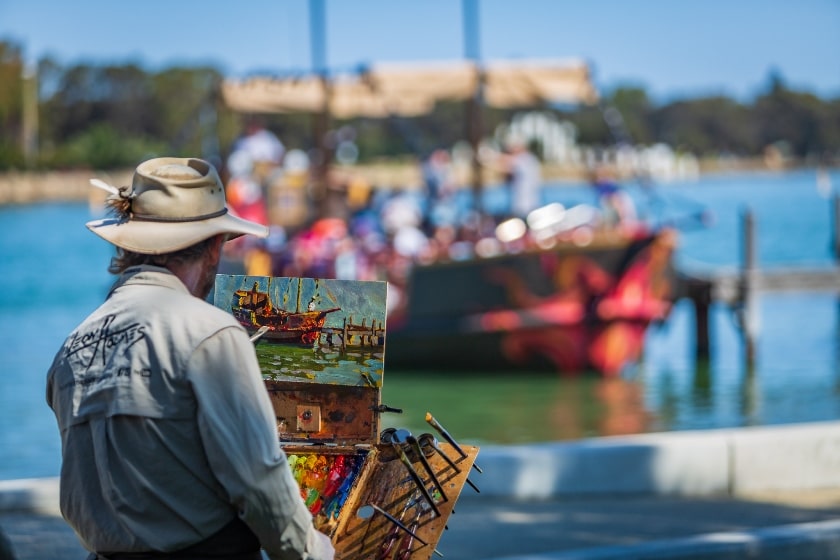 Western Australia's Largest Outdoor Painting Festival.
About the Event
Plein Air Down Under is an annual outdoor painting festival held around Mandurah's city centre, cultural precinct and the historic town of Pinjarra, from 24 – 26 September 2022.
This years festival presents Feature Artists Tiffanie Mang (USA) and Leon Holmes (Aus), as well as outdoor and evening paint outs, free "have-a-go" activities, Masterclass Workshops, free painting demonstrations, over $8,000 in awards and prizes and two exhibitions – all designed to celebrate the art of painting outdoors.
So, if your a local artist or just appreciate great art and want to join in the fun of Western Australia's largest outdoor painting festival, visit the event website for more information.
Event Dates and Locations:
Saturday 24 September: Western Foreshore, 9am - 3pm
Saturday 24 September: Mandurah Performing Arts Centre, 4pm - 8pm
Sunday 25 September: Mandurah Performing Arts Centre, 4pm - 8pm
Monday 26 September:Mandjar Square and Mandurah Performing Arts Centre 10am - 4pm
Artist Registration Fees:
Over 18: $65 to paint for three days
Under 18: $10 to paint for three days
Artist Registration Includes:
Access to paint at all festival paint outs
Eligibility for awards and prize money, over $8,000
Exhibition and selling opportunities in the Mandurah Performing Arts Centre
Registration for the two hour Quick Draw Painting Competition
Registrations open now!