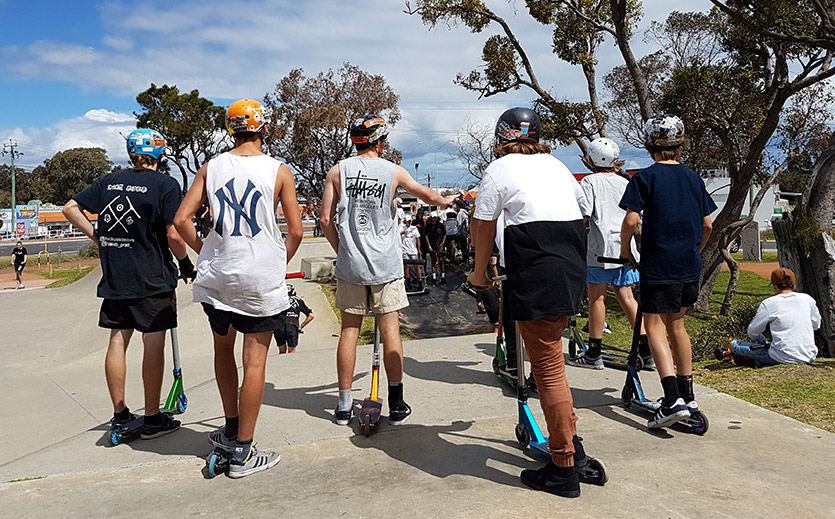 Start off your school holidays the right way and join us for a free Jam Session as well as a Scooter and BMX Clinic down at Falcon Skate Park. Come say hey to the City of Mandurah's Youth team from the Billy Dower Youth Centre. We will be having a free sausage sizzle, with picnic blankets, giant games and other activities for the whole family.
About the Event
Mandurah Skate Park Event Saturday 2 October cancelled due to weather. This event will be rescheduled for Summer.
The Scooter and BMX Clinics are delivered by Freestyle Now who specialise in entertaining stunt show performances, skatepark coaching workshops, well managed skatepark competitions and motivational school presentations, as well as youth orientated events and programs. You can learn some cool new tricks, gain confidence, have fun and win prizes for registered scooter and BMX participants. The clinics offer coaching for all levels of ability and experience.
Registration is required and participants under the age of 15 years will need parental permission.
Falcon Skate Park
Saturday, 25 September - 12pm to 3pm
Register for Falcon Skate Park event
Mandurah Skate Park (cancelled)
Saturday, 2 October - 12pm to 3pm
---
If you don't want to register for the event and still want to skate, a section will still be available for those wanting to use the park.
Look out for our yellow flags and gazebo and we will see you there!