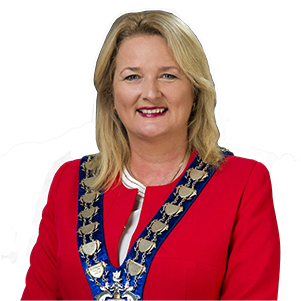 Mayor's Update March and April 2017

International Women's Day
On Wednesday 8 March I celebrated International Women's Day at a breakfast hosted by the Zonta Club of Peel. It was fantastic to see over 200 people at this event to support and empower the women of Mandurah. The guest speaker at this event was Belinda Beatty, an extremely impressive young mother who is also a pilot in the Royal Australian Air Force. Belinda spoke of how much harder she had to work to be recognised seriously as a pilot and her story is extremely inspiring and impressive. It was a great honour to hear from such an accomplished young woman and the event this year was another great success.


Crab Fest 2017
The 19th annual Channel 7 Mandurah Crab Fest was a fabulous weekend for all involved! This year attracted a record number of 165,000 local, national and international visitors. There was such a positive vibe throughout the festival, with many families and friends enjoying everything the event had to offer, from delicious food, exciting entertainment, children's activities and heaps of attractions.
Over the two days I attended many events all around the festival. After the official opening at the Music Stage I walked the footprint to see all the stalls on offer for 2017. After lunch I was joined by Bek and Ash from My Kitchen Rules to judge the Children's Dress Up Competition. This year's competition was fierce and I congratulate all the children (and parents!) who participated. I had the pleasure of cooking several times with Chef Dale at the Harvey Norman Cooking Stage, learning all about living lighter and still eating delicious food. I also spent time at the High Tea Under the Fig Tree hosted by Channel 7's Susannah Carr, and all the food looked and tasted wonderful. I got to sit down and chat with Dave and Ellie from Nova in the Nova Zone and I got to meet Thirsty Merc backstage (check out the photo below)!
I'd like to give a big thank you to all those involved. With the support of the local business community, local residents, sponsors, volunteers, city staff and emergency services personnel this year's Crab Fest was a huge success and one to remember.


Citizenship Ceremony
At the March Citizenship Ceremony we welcomed 131 people making their pledge of commitment and becoming Australian Citizens. This group was made up of people from 23 different countries including Austria, the Netherlands, and Trinidad and Tobago. It was an amazing turn out with family and friends there to celebrate and congratulate our new citizens.


Yaburgurt Public Artwork Launch
It was a great pleasure to be at the Yaburgurt Public Artwork launch on 30 March. The celebration was an important culmination of more than three years' of work to commemorate the life and times of significant Aboriginal leader Yaburgurt. The extraordinary artwork has been created to bring to life the character of Yaburgurt and his people, representing themes of societal changes, understanding and reconciliation.
The launch included the smoking ceremony on the artwork, a performance by the Wardong Koorlinga dance group and songs from the Interschool and Madjitil Moorna choirs. We also heard from Peter Farmer who is the Noongar artist who created this stunning piece. His extensive experience in public art creation and community engagement has been a great asset to this project's success.
I'm proud to see this very significant project officially launched. The project helps people to learn about, experience and celebrate the history, culture and achievements of local Aboriginal people. A big thank you to all involved in contributing to this great success.


Visit to Junior Council
In March our Junior Councillors from local primary schools elected a new Junior Mayor and Deputy Junior Mayor. The Junior Council meets every month and provides opportunities for 11 to 12 year olds to develop leadership skills, public speaking skills and to get involved with a community project. I had the opportunity to drop in at one of their meetings to say hello and meet the new Junior Council. I wish them the very best of luck for their year in Junior Council!


South West Aboriginal Basketball Corporation Tournament
Over the Easter Weekend the Mandurah Aquatic and Recreation Centre (MARC) hosted the South West Aboriginal Basketball Corporation Tournament over three huge days in our new basketball court facilities. The event has previously been held in the Shire of Waroona but has continued to grow and attract teams from all over WA. There were an estimated 1500 participants and supporters for the event which made the weekend a huge success for the MARC and the organisers of the competition. On the last day of the event I had the pleasure of watching the final games and then presenting the winners with their trophies. Congratulations to all involved in a very successful weekend and thank you to the MARC for hosting a great event.