Tuesday, 8 September 2020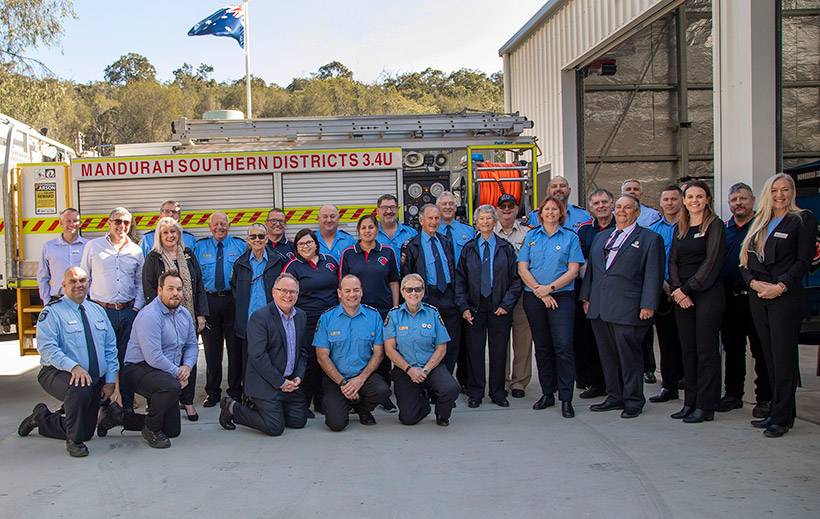 The Mandurah Southern Districts Bush Fire Brigade recently opened its brand new facility in Herron, providing their dedicated volunteers with a valuable resource for their important duties including training and recruitment.
Attending the opening event late last month was Mayor Rhys Williams, Hon. David Templeman MLA - Minister for Local Government, Murray Carter - Executive Director Rural Fire Division, DFES, Ray Buchan - Superintendent, DFES, Mark Newman - CEO, City of Mandurah, and Councillors Merv Darcy and Jenny Green.
The new building features a designated communications room, training room and practical storage facilities.
The facility received funding from the Department of Fire and Emergency Services and the City of Mandurah committed funding towards the siteworks.
The Southern Districts Brigade was formed in 1963 with a small group of six locals, and now has close to 30 members dedicating their time to save lives and property. The members provide a first response to fires from Tims Thicket Road to Mandurah's southern border, and also travel throughout the state to assist with large fires.
At the opening ceremony, Kay and Brian Toussaint were awarded 35 year service medals for their contribution to the brigade. Mr Toussaint was the brigade Captain from 1989-2002.
Mayor Rhys Williams congratulated the dedicated volunteers on the opening of their new facility.
"It's important that our emergency services personnel are well equipped to prepare for and manage fires, and this new facility will be a well utilised and valuable resource for the great work they do, including training and recruitment," Mayor Williams said.
"These volunteers play a vital role in helping to protect our community, by reducing risks to life and property, and we thank them for all that they do."