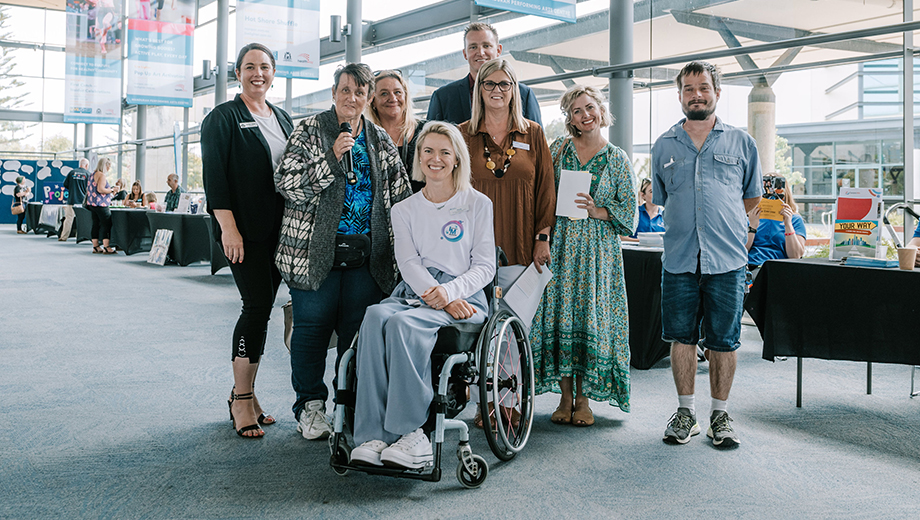 About the Event
Everyone is invited to attend a shared morning team to celebrate the leadership and contribution of local people with disability and together build a more inclusive community for all to enjoy.
There will be entertainment, interactive activities, information stalls and opportunities to learn about great ways to get connected in Mandurah.
Accessibility:
Auslan interpreter, Chill Out Zone, social story, ACROD parking, wheelchair accessible toilet and a Changing Places facility located next to the Mandurah Visitors Centre (loan key available from the bookings office at ManPAC or at the Visitors).
RSVP:
To confirm attendance please email Fiona.Allen@mandurah.wa.gov.au or phone/text 0417 146 153 by 25 November
Social Story and Event Schedule:
Download the Social Story document for further information.
Communication Chat Board for Community Event:
Download the Communication Chat Board document for further information.
International Day of People with Disability list of events
Date: 30 November
3-6pm - Wheelchair Basketball with Rebound WA - for all abilities 11 to 17 years
Billy Dower Youth Centre - No booking required
Date: 1 December
9am - 12pm - Mandurah - 'A community for everyone'
Mandurah Performing Arts Centre - Bookings essential
12pm - 4pm - Midway's Fun Fiesta
Outdoor area between Reading Cinemas and Mandurah Performing Arts Centre - No booking required
Date: 2 December
Session one (1pm) - Access and Inclusion guided tour of the MARC and gym
Mandurah Aquatic and Recreation Centre - No booking required
Session two (2pm) - Access and Inclusion guided tour of the MARC and gym
Mandurah Aquatic and Recreation Centre - No booking required
Date: 3 December
10am - 11am - 'Inclusion Awareness' Weekend Storytime with Key Word Signs
Falcon Library - No booking required
11am - 12pm - 'Inclusion Awareness' Weekend Storytime with Key Word Signs
Lakelands Library - No booking required
Date: 4 December
11am - 12pm - 'Inclusion Awareness' Weekend Storytime with Key Word Signs
Mandurah Library - No booking required
Date: 6 December
10am - 11am - Cuppa Conversations with guest speaker
Mandurah Seniors and Community Centre - Bookings essential
For information about all of the other events happening in Mandurah to celebrate IDPwD, download the flyer
Event Locations ( 1 )