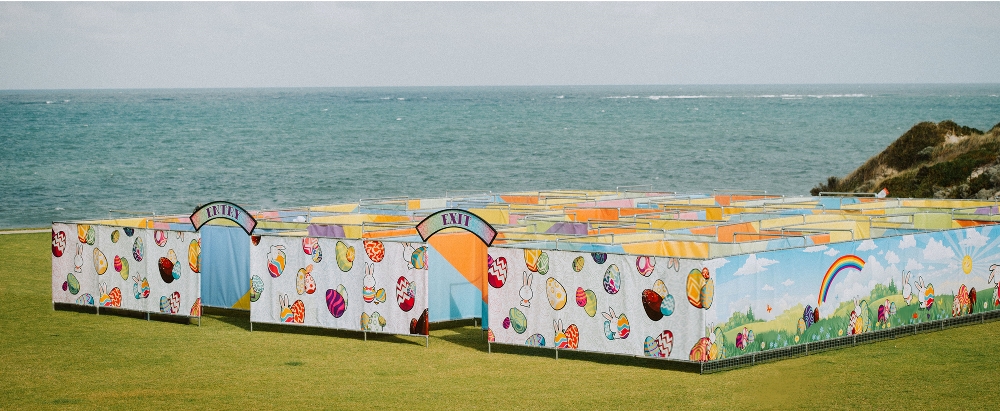 About the Event
Join us on the Easter long weekend for fun and activities at the Mandurah Easter Maze presented by Creative Mazes, along the waterfront.
There's no age limit on fun and this will be no exception. Visit the bright, colourful and illuminated Mandurah Easter Maze by day or by night from Saturday 16 to Monday 18 April with all your family and friends.
Hunt around the Easter Maze, looking for clues, completing the activities and tasks along the way, plus some awesome prizes to be won!
This is a FREE event. No bookings or tickets required.
We can't wait to see maze-goers embark on a mini adventure and create unforgettable memories.
Event date: 16 - 18 April 2022
Operating Times: 10am - 9pm daily
Location: Eastern Foreshore (north of the playground)
But the fun doesn't stop here!
We've got more events and activities for the whole family to enjoy over the Easter weekend and beyond.
Join us at the live music stage on Saturday 16 April from 12pm - 6pm
The drive-in movies will be back in Hall Park on the Western Foreshore from 18-24 April. Stay tuned for movies, session times and tickets.
COVID Safe Information:
The Mandurah Eater Maze has single flow entry and exit points, no physical touch points, large dead -ends to maintain physical distancing and a central lookout tower to monitor congestion. If you are unwell please stay home. Masks will be mandatory within the event footprint as per public health measures at the time of the event.