Thursday, 10 November 2022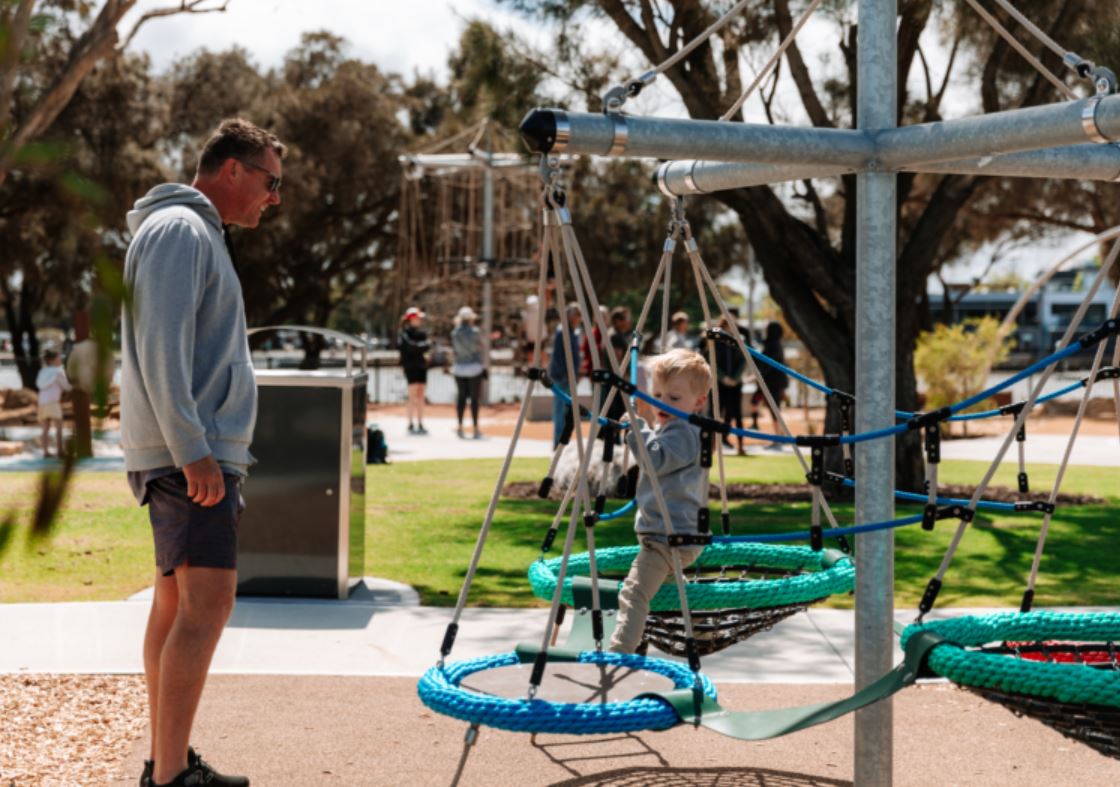 Mandurah Waterfront's brand new play space, Koolaanga Waabiny Playground, is now open, giving locals and visitors yet another great reason to visit Mandurah's iconic foreshore areas.
The Koolaanga Waabiny Playground (pronounced kool-lung-ga waa-bin) is the latest addition to Mandurah's $22m Waterfront Project, funded by the State and Federal Governments, and the City of Mandurah.
Prominently placed on the Western Foreshore next to the Mandurah Skate Park, the playground boasts a 12-metre high play tower as the centrepiece of the world-class play space. The play tower design is inspired by the local Swamp Sheoak trees (Koolyaanga).
It features both family favourites and newly-imagined play equipment including swinging and climbing zones, slides, shaded cubby pods, sand and music play zones, balancing logs, a spinning carousel and a human hamster wheel.
Mandurah's heritage, character and world-renowned natural environment have been encapsulated in the overall design, including seating made from salvaged timbers from the Old Mandurah Bridge. To celebrate local bird life, a series of replica egg sculptures have been incorporated into the space, and a number of carvings in the seating and logs represent local fauna and part of the Serpentine River.
An art path linking the play tower to the cubby pods tells the story of travelling along the waterways, and the 'fish mungah trap' fence references the traditional Barragup Fish Mungah Trap on the Serpentine River.
Mayor Rhys Williams said it was a proud moment to open the new state-of-the-art playground, which would be a delight to the young and the young at heart.
"One of the highlights for me is the way the play space has come to life. Many members of the community, including children, helped us to design the playground and it's wonderful to see their thoughts and ideas incorporated into the final product. We have a play space that is fun, inclusive, imaginative and sparks curiosity, while thoughtfully highlighting local stories, the environment and historic elements," Mayor Williams said.
"The play space has been named in consultation with Local Elders, Cultural Knowledge holders and community members, with Koolaanga Waabiny translating to 'children playing' and also relating to the Sheoak trees (koolyaanga) celebrated in the space.
"This incredible playground is such a special addition to our redeveloped Waterfront spaces, adding yet another element of fun and excitement for both the local community and visitors alike. We invite everyone to come and enjoy our new Koolaanga Waabiny Playground during their next trip to Mandurah, and we know this space will be so popular during the upcoming summer season."