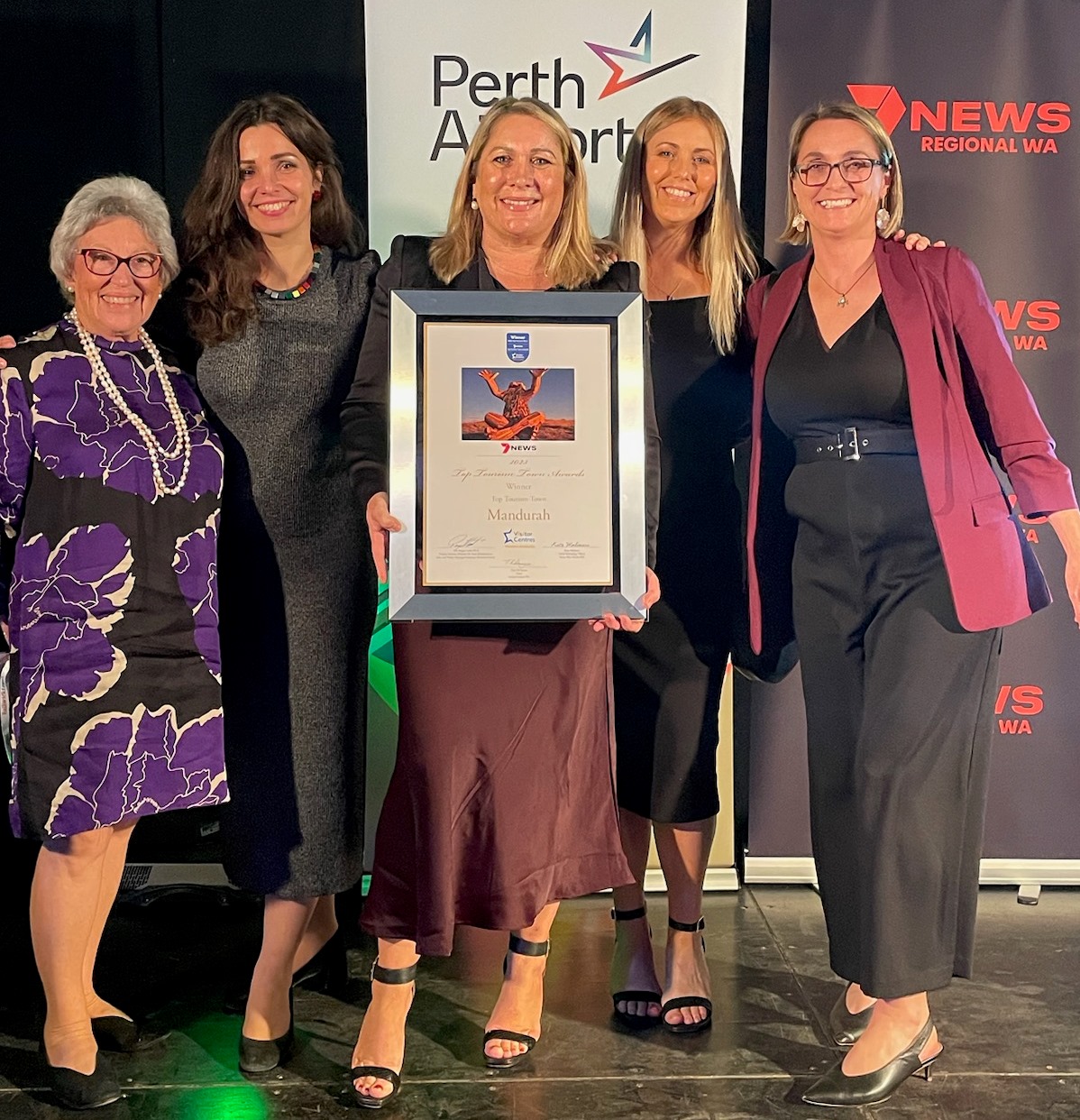 Mandurah has been named Western Australia's (WA) Top Tourism Town for the second year in a row, with the announcement made at last night's 7NEWS Top Tourism Town Awards.

Mayor Rhys Williams put the back to back win down to the significant work going on to revitalise Mandurah.

"To be recognised two years running as WA's Top Tourism Town is validation that Mandurah's transformation is gaining momentum," said Mayor Williams.

"Our City has seen significant private and public investment over the past few years, which is leading to a real change, not only in infrastructure and business growth, but in the way that we think of ourselves, and in the way that others perceive us.

"The best example of this over the past twelve months has been the success of Thomas Dambo's Giants of Mandurah project, which has seen thousands of people from all over visit our city.

"This is an exciting time for Mandurah, and we're just getting started on this exciting journey as we enter a new chapter of Mandurah's evolution."

The 7NEWS Top Tourism Town Awards recognise and reward towns in WA that demonstrate a strong commitment to encouraging tourism and increasing visitation to the destination.

Visit Mandurah General Manager, Anita Kane, said the award further cements Mandurah's position as a key player in WA's tourism industry.

"Here at Visit Mandurah, we are thrilled that our stunning coastal city has again been crowned Top Tourism Town. It is a prestigious title and one we truly believe Mandurah is worthy of. For the last five years in particular, Mandurah's tourism industry has adapted, innovated, and reimagined its offerings. It is a real joy to see these efforts recognised," said Ms Kane.

With the winners announced, Mandurah will go on to compete against Top Tourism Towns from across Australia in the national awards later in the year."

"With an estuary twice the size of Sydney Harbour, world-class tourism experiences and of course, Thomas Dambo's Giants, Mandurah really does stand out from the crowd. We are excited to see how we fair."

This is the third time Mandurah has been awarded Top Tourism Town. As well as 2022, Mandurah won the award in 2017. This year, Mandurah was competing against Collie and Geraldton.