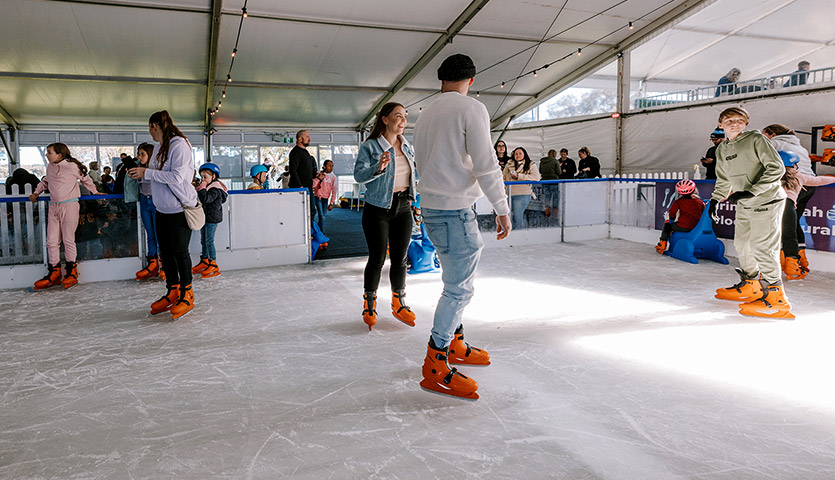 About the Event
This magical winter wonderland is a must-visit destination, perfect for the whole family. Enjoy a handful of winter inspired activities including:
Ice skating rink
Ice slide
Pop up rides and fantastic entertainment
Food, drinks and events by the Brighton Hotel
Stay tuned for a series of exclusive ticketed events over the winter months to round off this winter experience.
Whether you are new to skating or a pro, there is something for everyone. The 'Kanga Skate Aid' is available for the big and little kids, giving a kick of confidence to enjoy the magic of being on the ice. The ice skating rink is also wheelchair accessible making an inclusive activity everyone can enjoy.
Skating in Mandurah will be open each day from 10am to 8pm, with ice skating sessions starting every hour, on the hour for 45 minutes. Ensure you arrive 20 minutes early to secure your tickets and to buckle up your skates. Don't forget to bring your own pair of socks!
Ticket Prices:
Ice Skating:
3-4 years: $5.00
5-14 years: $17.00
15+ years: $25.00
Family Pass (2x adults, 2x children): $75.00
Kanga Skating Aid: $10.00
Ice Slide and Amusements:
Ice Slide (unlimited 1 hour): $10.00
Bungee Trampoline Ride (1 ride): $10.00
Water Boats (1 ride): $6.00
Tea Cups Ride (1 ride): $6.00
Tickets available to purchase online or at the event. Ice skating tickets includes the hire of ice skates and a 45 minute skating session.
With a full season of events and activities to explore, staying indoors is NOT an option this winter. Rug up, step outside and enjoy everything that is going on this Winter in Mandurah!
---
COVID-19 Information
GET YOUR SKATES ON!
Skating in Mandurah has reopened.
Today's State Govt. announcement confirmed that from midnight Monday 5 July, restrictions for Perth and Peel will ease, with some transitional restrictions still in place. Meaning Skating in Mandurah is ready to safely reopen, just in time for the school holidays!
Join us on the foreshore and experience this magical winter wonderland, it's a perfect outing for the whole family. Buckle up your skates for a glide around the undercover ice rink, plus loads of fun on the ice slide, and pop up rides 'n' entertainment. The Brighton Hotel is serving delicious food and drink beside the ice rink too.
Be sure to book your skating tickets online to avoid missing out!
When you arrive, remember to check in via the SafeWA app and wear a mask to ensure everyone is kept safe and well.
Thanks for being patient with us as we followed the advice of the State Govt. BUT, we're pumped to have everyone back on the rink from tomorrow!
LET'S SKATE!